Ed Z (Captain)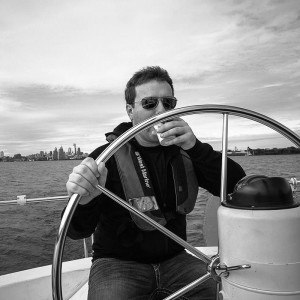 Most of my childhood memories involve the water. My grandparents lived on the bay in Miami Beach and my grandfather, a builder of hotels in the MiMo (Miami Modern) era of Miami, owned and managed a little property on up in Sunny Isles (the Blue Mist). Most of my youth was spent either swimming in the ocean at the Blue Mist, scuba diving, or sailing their little sunfish with my dad in Biscayne Bay. My mom told me stories of her and her brother going on boat-camping trips when they were young and commuting to high-school on the little home-built hydroplane my uncle built in the backyard out of plywood and fiberglass. I dreamed of one day having my own sailboat and cruising off into the sunset.
Once I went off to college, I didn't get to sail for many years, but I never lost the passion for it. My childhood dreams of cruising would resurface periodically with a vengeance, however I never gave them serious consideration until Vicky started sailing with me. Once we discovered that she loved the lifestyle as much as I did we began making plans towards our escape…
Vicky (First Mate)
There is something incredibly calming about being out on the water, no sound of engines, simply the wind pushing you forward. Not all days are this amazing, but it is these kinds of days that I always look forward to. Growing up I was not the biggest fan of the water or the boats for that matter, motion sickness always got the better of me. Who knew that going out for an open house sail with Liberty Sailing Club would turn into a passion.
My sailing experience started on our honeymoon. We made a stop in Miami Beach and Ed was really excited to take me out sailing on the sunfish he grew up sailing. The sunfish had not been used for a while, but seemed in a good shape – all it needed was a new rudder. After Ed spent a few hours carving a new rudder from the spare centerboard, we were ready to go and launched the boat in the little narrow canal on Biscayne Point that leads out to the bay. While trying to get through the canal and navigating among pretty sizable yachts along the way, we decided it was time to put our sails up. As soon as we hoisted the sail, the boom shackle snapped! Ed quickly started wrestling with the sail to get it down and threw the tiller at me. We managed to navigate back to his grandparent's house without tipping over or hitting any of the fancy boats along the way. Needless to say, Ed assumed that was the last sailing adventure we would ever go on.
It only took 7 years to get me on a boat again :-)
With the help of Ed, the wonderful members of Liberty Sailing Club and Steve of Liberty Sailing School I not only got on a boat again, but learned everything I know about sailing and turned an afternoon activity into a passion. After 3 years with the Club and several charter trips with the School, I am excited for the next chapter in our adventures, this time on our own boat…
Tosha (Botswain)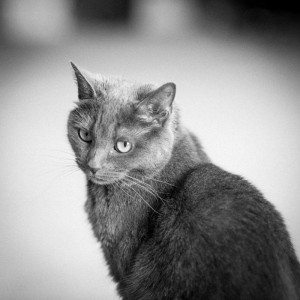 Tosha grew up on the mean streets of Kensignton in Philly, so we figure she's scrappy enough to handle whatever a boat can throw at her, as well as fighting off pirates!