Since our delayed departure had the upside of putting us in range of Annapolis for the boat show weekend, we decided to swing by and check it out.  Some Liberty Sailing friends were there as well, so we got a slip in the Annapolis City Marina, right next to them.  We were all hanging out having some sundowners, when I happened to peek my head out the companionway, only to see a veritable *wall* of black clouds barreling down on us.  We had just enough time to snap a few quick pictures before a *torrential* squall slammed into us.  We shut all the hatches and went back to cocktails – fortunately it passed quickly.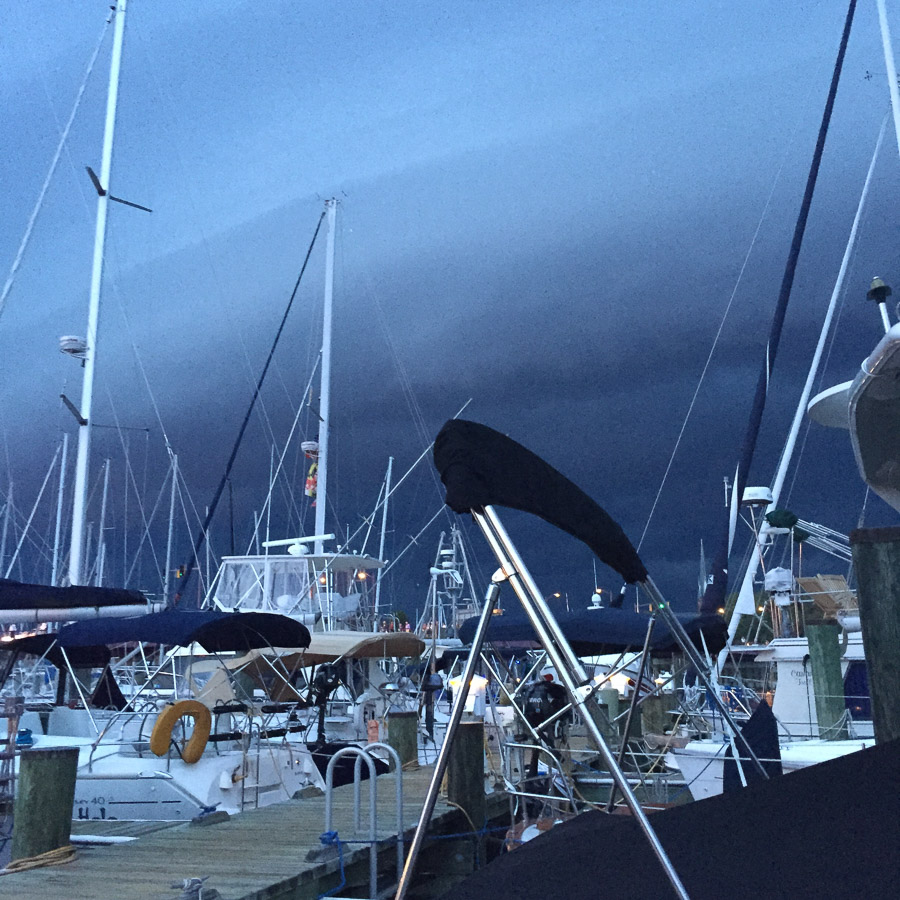 Saturday, we went around to the show/expo.  Didn't really need any gear, but it was a lot of fun to meet some of the vendors who we had dealt so much with on projects, namely the Sailrite guys and the Portland Pudgy folks
In the afternoon, we also met up with Lauren and Brian from the SeaBiscuit blog.  We had kind of randomly connected a few months earlier online, as we were both on kind of parallel tracks in our cruise departure preparations… we were both putting in composting heads at the same time, both buying the same dinghy at the same time, both casting off at the same time… it was kinda freaky actually (in a fun way).  Anyway, after meeting up, we discovered we had a ton in common, even aside from our freaky-parallel-boat-project-thing, and had a great evening hanging out.
We took one more day at the marina, as I decided to pull the trigger on a new SmartPlug system to replace our aging, filthy shore power cord. Figured that it would be a good idea to have shore power to actually test our new shore power system with…
Definitely a worthwhile upgrade, and probably the easiest boat project to date! (knock on so much wood).
We also spent some more time at the show, mainly hanging out at the Hendricks tent, where they put on a great show & made yummy cocktails with our favorite gin :-) We also, totally out of the blue, ran into an old college buddy of mine at the Hendricks tent as well!
On, monday after the show we checked out of the marina, took a (very) short sail around to the north side of Annapolis and grabbed one of the Navy mooring balls in Weems creek.  Apparently you can just pick up the moorings if they are open – if the Navy needs them they'll just kick you off!  Weems creek was a beautiful anchorage, and we decided to stay for several days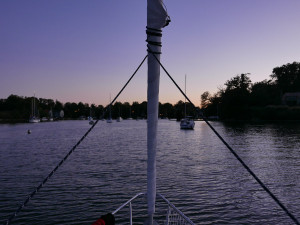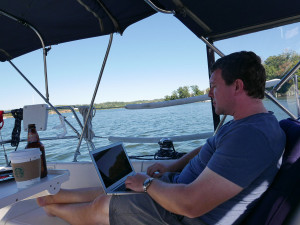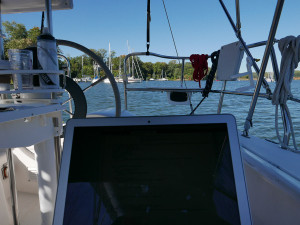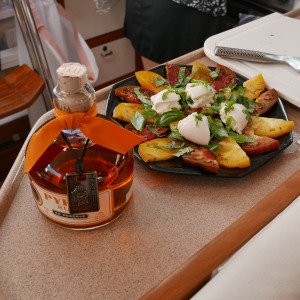 This turned out great, as quite a few other folks had the same idea! It was like the great convergence of young cruisers/bloggers – we had Lauren & Brian from SeaBiscuit, Ron & Jackie from Skelton Crew, Jim & Chris from Mangoes Marley and Mermaids, and Jesse & Stacey from s/v Smitty.  We all took advantage of Lauren and Brian's roomy cockpit and all hung out each evening.  We were having such a great time in Weems that even though our initial plan had been to sail to St. Michaels on the 14th in order to be there on the 15th for Vicky's birthday, we decided to stay another night in the creek.  Lauren baked a cake, and we all got together on Nightengale Tune for cake and cocktails.  Everyone in the anchorage also signed a card for Vicky, it was really sweet.  A great pre-birthday night!
On the 15th, we had a Russian birthday breakfast of smoked salmon and blinis, which we found at the local market, then set sail for St. Michaels.  We had a beautiful downwind sail and made great time.  By this time we were getting pretty grimy and needed to do laundry so we took a slip at the Harbor Inn, and took full advantage of the facilities.  We checked out the winery and the brewery and treated ourselves to a nice birthday dinner at one of the more upscale places in town.  The next day we moved over to an anchorage close by and dinghy-ed back into town to check out the maritime museum and stroll around a bit.

Our next stop is Solomon's Island, so we decided to take one day as a "staging" day, moving the boat around to the south side of the island and anchoring up harris creek.  It's blowing like stink, and it's going to be a bouncy night tonight, but it will cut quite a bit of time off our sail to Solomon's tomorrow.