With Savannah behind us, we were hoping to make it to Florida as quickly as possible. Unfortunately the weather had other plans. A pretty big front was moving in & bringing thunderstorms and some significant winds. After some quick research, we decided to tuck in at the Brunswick Landing Marina in Brunswick, GA. Not too far from Fernandina Beach, FL and a well-protected harbor, it seemed perfect to wait out the storm.
As it turned out, not only was it a great place to wait out the weather (we saw gusts close to 50 knots!), but the town of Brunswick was a really fun place to spend a few days as well. The town was laid out in the similar grid style following Oglethorpe's Savannah Plan with square blocks and cute green squares every few blocks.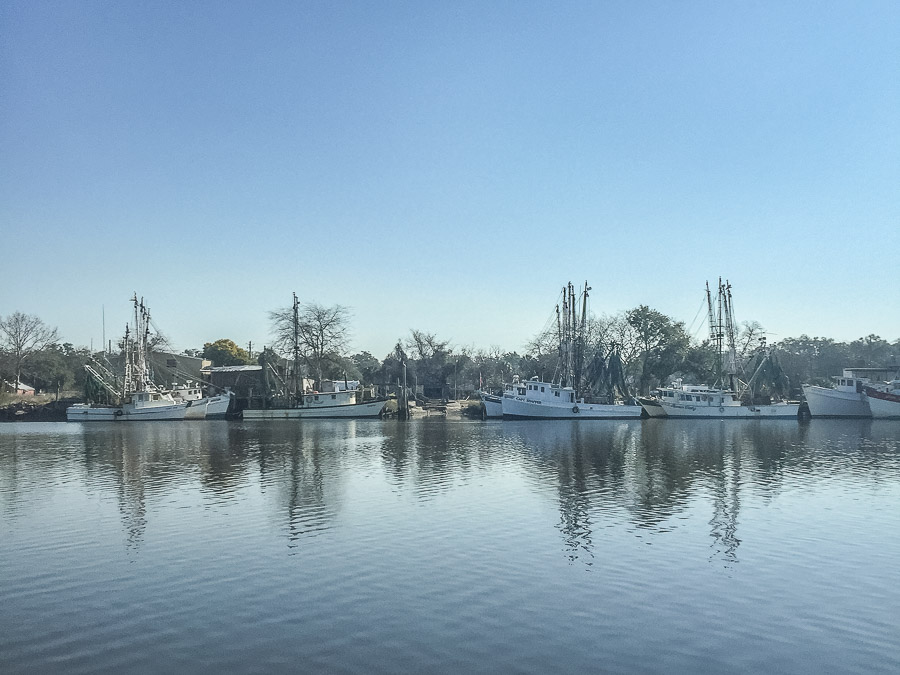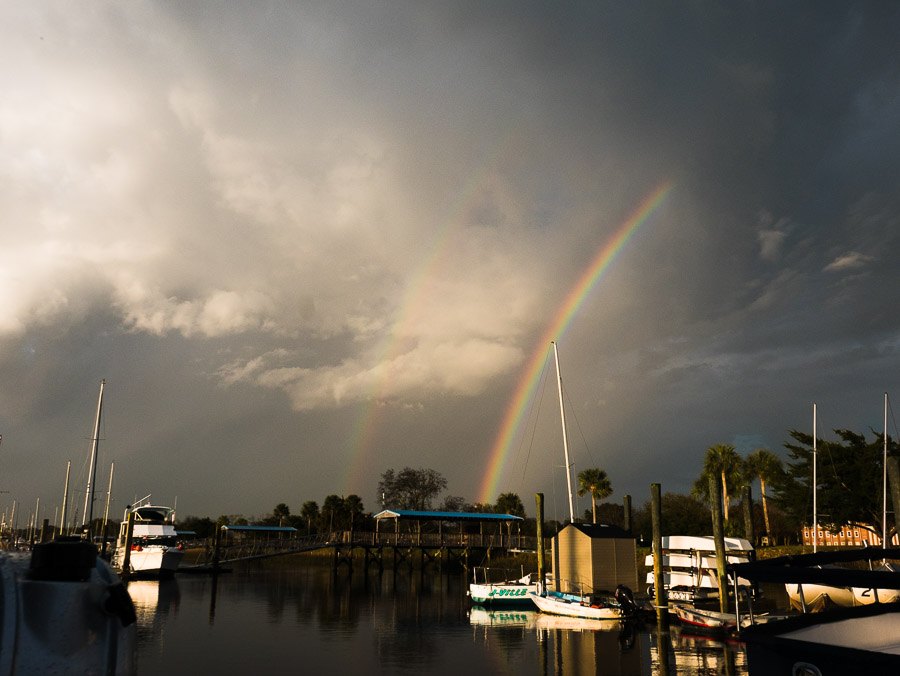 We were exploring the quaint "small-town" main street, when we noticed an unmistakeable smell – roasting coffee! (Ed was an avid home-roaster, and we've been spoiled with a taste for truly fresh-roasted coffee beans.) Only problem was, we didn't see a coffee shop/roaster anywhere – no signs around us, nothing showing up on google or yelp.
The coffee situations on the boat has not been great. We were beyond spoiled back in Philly by the wonderful craft coffee shops and roasteries throughout downtown. Coupled with a Mazzer grinder and an Isomac espresso machine at home, we almost never had a bad cup of coffee or espresso. On our trip we stopped in Annapolis and biked to Ceremony Roasters, one of our favorite roasters, and got 5 lbs of various coffees. We didn't have the heart to have all 5 bags pre-ground (coffee gets state very quickly once roasted and then even quicker once ground) so we opted to buy a small hand grinder for the boat. The grinder was not great with dull burrs. The percolator would take over 30 min to get the coffee to a decent strength – way too much propane wasted on that from our limited supply. Then Ed opted to get us a pour over pot, however it would take forever to grind enough coffee with the fine grind needed for a pot of pour over. The coffee making had become a long and tedious effort.
But I digress… Back to Brunswick.
We kept walking down the main street, checking out all the cute shops and restaurants, and we kept getting whiffs of that smokey, grassy, sweet, burnet-sugar odor (Roasting coffee smells nothing like what one generally thinks of as "coffee smell" – more like a cross between burning leaves, hay and toasted caramel.) We even tried to triangulate where the smell was coming from based on the wind's direction, but still could not pinpoint the location.
As we were on our way back to the boat, we noticed the smell getting stronger, and began "following our noses" to locate the source. Then right in front of us we saw smoke coming out the side of an unmarked, nondescript building, and we knew we had found the place! There did not seem to be any signage or storefront, but the front door was unlocked, so we turned the knob and were surrounded by the familiar sounds and smells of a coffee roaster at Wake Up Coffee Company. We had hoped they had a little cafe inside but unfortunately they did not at this location. They did have cafes around Brunswick but too far out of the commuting range for us. We chatted for a while with one of the roaster, Tristan, about their roasting philosophy and process, the type of beans they use, and all the other coffee geek topics. We had wanted to buy a pound of their coffee to try and Tristan went in the back to pack us a lb. bag right off the roasting drum. He handed us the bag, refusing to take any money for it as he really wanted us to try their coffee. The next morning we "fired up" our manual grinder and made a delicious cup of coffee. With the wonderful nut and caramel notes it was a truly amazing blend.
We also checked out a local coffee shop Daddy Cate's Coffees that serves the Wake up Coffee. The shop was beyond cute with little coffee quotes and historical family photos everywhere. During our week stay in Brunswick we established a little routine and visited the shop every morning. After a few days, the owner would simply ask "Your usuals?" when we walked through the door! Love being regulars!
Brunswick Landing Marina was a wonderful stop. Not only their dockage and fuel rates were quite reasonable but they also had a great boater lounge. You could get free beer on tap at any time and the marina hosted happy hours for guests with free wine three times a week. The day we arrived was Monday, one of the wine evenings so we made our way to the lounge at happy hour. When we walked in and got situated we were greeted by a familiar face. We met Bill Ballard just a few days prior white we stayed at the Hinckley Yacht Services. Bill is a marine surveyor so he frequently travels to various boatyard and we picked his brain on the best ways to navigate the treacherous shallow areas of Georgia that had awaited us. Also he and his wife Lisa spent quite a bit of time at Hinckley doing a major refit on their 34 ft Pacific Seacraft S/V Jo Beth. The four of us had an instant connection. Beyond having sailing and racing in common, Lisa also went to Penn, our alma matter, and was a computer science major, as I was. She had also worked with multiple technology start up in the past and currently does marketing and PR. And we all love going out to eat! Bill and Lisa became our partners in exploring several restaurants in downtown Brunswick and with their help we were able to continue our quest for great BBQ along the ICW with the visit to the Southern Soul BBQ on St Simons Island. This place had the best pulled pork we've had on the trip so far! They also had most delicious BBQ chicken. The trick we learned in Charleston is to order the chicken by pieces instead of pulled chicken as you get more meat that way. The kitchen simply shreds the meat of those same chicken pieces for you and you don't end up getting all of it. We also had to try their Brunswick stew. Simply delish! Great food and great conversation flowed as we enjoyed our meal at the outside picnic tables of this gas station turned restaurant.
Before we knew it, the bad weather passed with the crazy gusts that truly tested our solar panel mounting solution and gave us great confidence in it. It was time to leave the dock again.
Next stop, Florida!