After leaving St. Michaels, our next destination was Solomons Island.  Heard a lot of good things, and decided to check it out.  We didn't want to do the whole trip in a day, so we decided to hook around through the Knapps narrows and spend a night off Tilghman island.  We had been through the narrows on on delivery trip back from Oxford, so we were pretty confident that we could navigate it, even though it was just off of low tide…
After a bit of a scary night anchored in 30-35 knots, we had a pretty rough sail to Solomons… Big gusts, and steep chop coming on the beam an quarter threw us around pretty badly.  On the upside all that wind meant we made great time… We were pretty beat up and tired when we got to Solomons, but found a great spot to anchor just next to the Maritime museum.  The museum was excellent, and there was a WestMarine and Fantastic liquor store just up the road – what more could you want?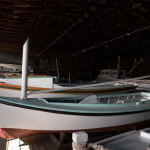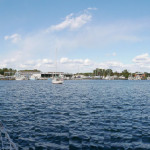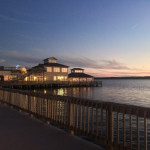 The next day, I decided to get our propane refilled, as the tank was feeling pretty light, and I had no idea how much was left in it (we inherited it with the boat).  Fortunately, as it is only a 10lb tank, I was able to toss it in my backpack and bike it over to the local Citgo, which I was told did propane fills.  Of course when I got there, turns out they were completely out of propane and had no idea when they were getting more (supply mess up by the previous manager or such).  The upside was the hardware store a few miles down the road also did propane fills.  Back on the bike (our Bromptons are totally da MVPs already).  Got to the hardware store, and sure enough they did propane fills – only to discover that our tank was actually 10 years out of date – aluminum propane tanks are only certified for 12(?) years, and ours was dated 1993!  Guess the previous owner didn't use much propane, since the last time the tanks could have been filled was in 2005… wow…  My fault for not checking the date on the tank before we left.  Of course the hardware store didn't have a 10lb aluminum tank (that would be too easy, which would not please the boat project gods…) but I got a 5lb tank to hold us over for the time being.  Such is boat life.
After a few nights in Solomons, we decided to head to Deltaville and meet up with the SeaBiscuit folks who were hauled out & working on boat projects there.  Rather than doing the Solomons->Deltaville hop in one shot, we decided to break it up and anchor just south of Reedville for a night.  The anchorage was beautiful, despite a plethora of crab pots and fish stakes, and as we left in the morning, we got to see some low-lying fog rolling out over the anchorage – really cool.
Deltaville was great, we got a nice protected spot just off the Deltaville Boatyard.  The boatyard allows anchored boats to use all it's facilities (including courtesy cars) for a nominal fee, which was great for us.  We did some provisioning and met up with our friends for dinner.  The next day Skelton Crew and s/v Smitty showed up as well, so we had the whole crew together again.   Some amount of beer was consumed :-)
We debated staying in Deltaville for a while and hauling out for some projects, but in the interests of getting south we decided to move on.  Next stop was Hampton VA, where we had a coupon for a free night at the Hampton Public Piers marina.  Hampton is a cute little town, and we are staying here till tomorrow to have our bottom & prop scrubbed before heading into the ICW…