We were of course shaken up after our misadventure as we were leaving Charleston. We kept going over it in our heads to see what we could've done different, how we could have prevented it. Now we'd have to figure out how to get the replacement oars which means we'd have to stay somewhere long enough to get it.
The rest of the day was fairly uneventful though pretty chilly. It was about 48F when we left.
We had planned to anchor out that night and if we got too cold, we could set up our generator to run the little space heater. Around 4:30 pm we pulled into the Toogoodoo Creek to anchor. We dropped our anchor as usual, into the wind, which is what typically dominates our boat,  but then we realized that the current is so strong here that it was fighting against the wind. We were not just simply falling back on our anchor but we were swinging back and forth over our anchor chain. We were pretty sure our anchor was set well, but experiencing the wind vs current situation for the first time made us a bit uneasy. We decided to sleep in the salon instead of our usual bed at the front of the boat, just in case anything happened when the tides changed and we started swinging differently. Needless to say we didn't get the greatest night of sleep and at 6:45am with first light we pulled up our anchor to keep going.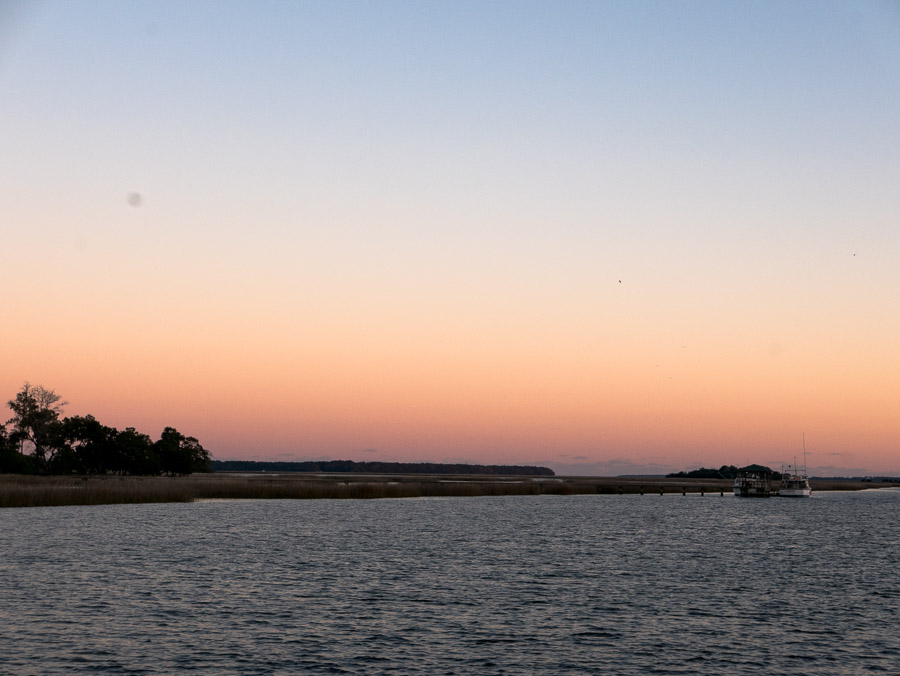 We were going to be passing through a few shallow areas today and wanted to be sure we were going through them at high tide. The first was Watts Cut and we made through it without issues following the guidance in Active Captain. The second area we were going to be passing at dead low tide. And while we probably would have been ok, we decided not to chance it.
While we were in Southport, NC we were lucky to attend a navigational briefing by Hank Pomeranz from Carolina Yacht Care. He does it for free for any cruisers passing through the marina, just because he loves doing it! That's when we learned of the alternate route through St Helena Sound. This would add at least an hour to our route but we felt it was worth then risking running aground again. So that's what we did. We had to go all the way out of the sound practically into the ocean to avoid the shoals in the sound itself. It's so deceptive because you look out at the wide span of water thinking you can just cut through it, but not so. A fishing boat on their way out to the ocean caught up to us. Worried we were lost they tried to tell us that the ICW was the other way and we tried to tell them that we are intentionally going this way. They didn't seem to understand and after a few minutes of back and forth gave up on us and continued on their way. We continued to bobble in the choppy water, very reminiscent of the Chesapeake. This slowed us down considerably and after what felt like a two hour detour instead of just one, we were starting to head back towards the ICW.
The weather was starting to deteriorate and the rain was coming, it was beginning to drizzle. Our plan was to pull into the Lady Island Marina just across the bridge from Beaufort downtown. We've heard and read many great things about it, the price was right and it felt like a good place to wait out the cold front coming through. As we approached the turn for the marina, Ed went to throttle down to turn into the creek and also avoid yet another shoaly area, but our engine didn't change the RPMs. He tried again, no change. With no time to panic he had me take the helm and do circles in front of the bridge (wondering what the bridge tender was thinking watching this) as he went below to try to diagnose the problem. It turned out that the screw which controls our idle speed had slipped and set itself at a very high RPM – not the speed you want to be docking at… Luckily he was able to adjust it on the fly and get it low enough that we could reduce the speed, we'd make final adjustments once we are safely in the slip.
Many call this marina the "Hotel California" as people get here but then don't really want to leave. We were no exception. We planned to stay just a few nights to wait out the cold and nasty weather. We stayed 10! There is a great cruisers lounge and we watched the super bowl with many other folks (mostly for commercials of course). While here we took advantage of having a shipping address so we arranged to have the replacement oars shipped here as well as got a few engine parts. The wonderful folks at Portland Pudgy had the oars out to us within a few days.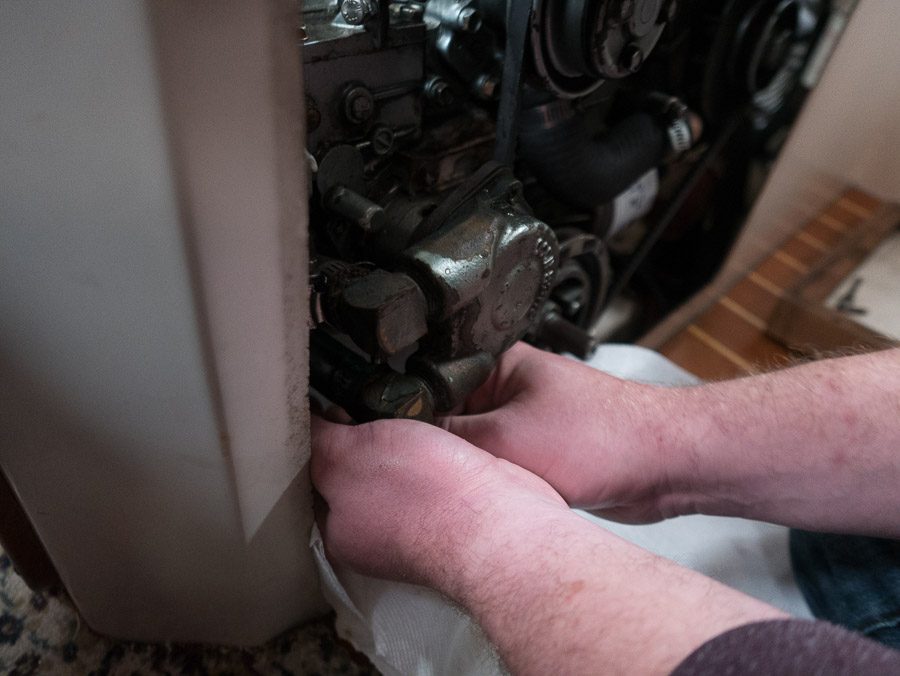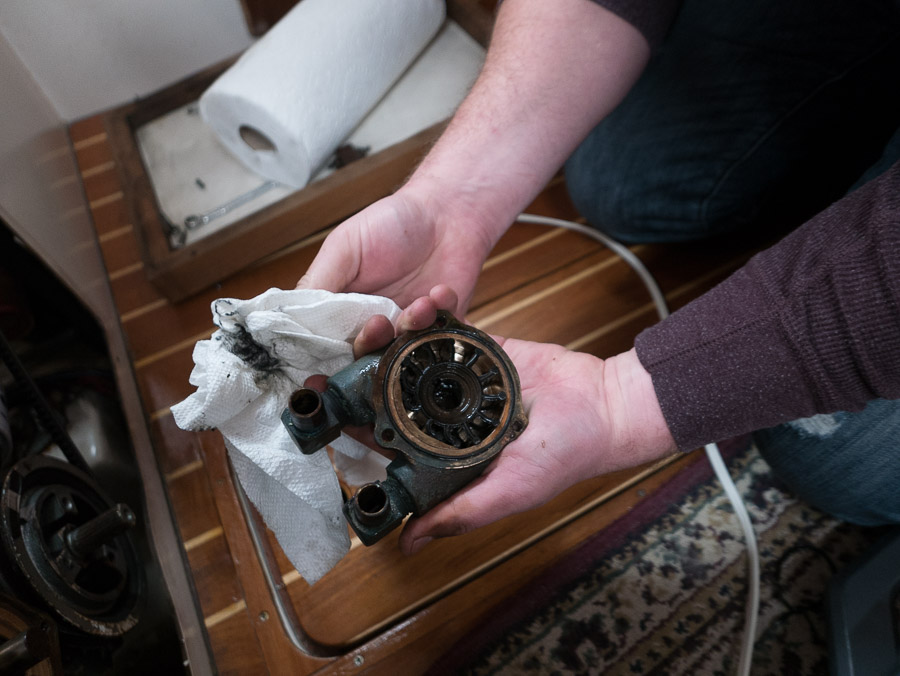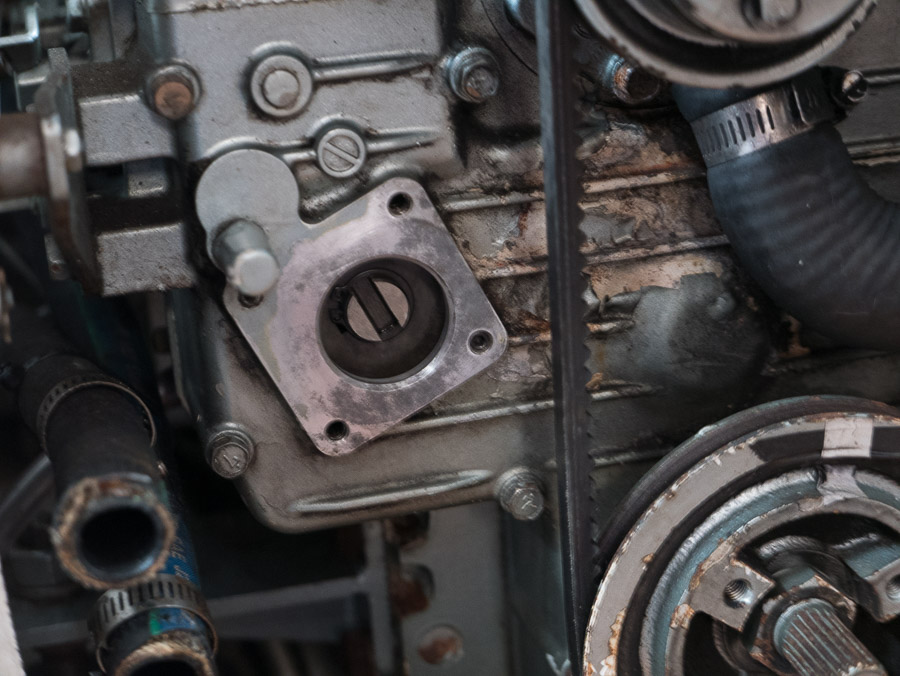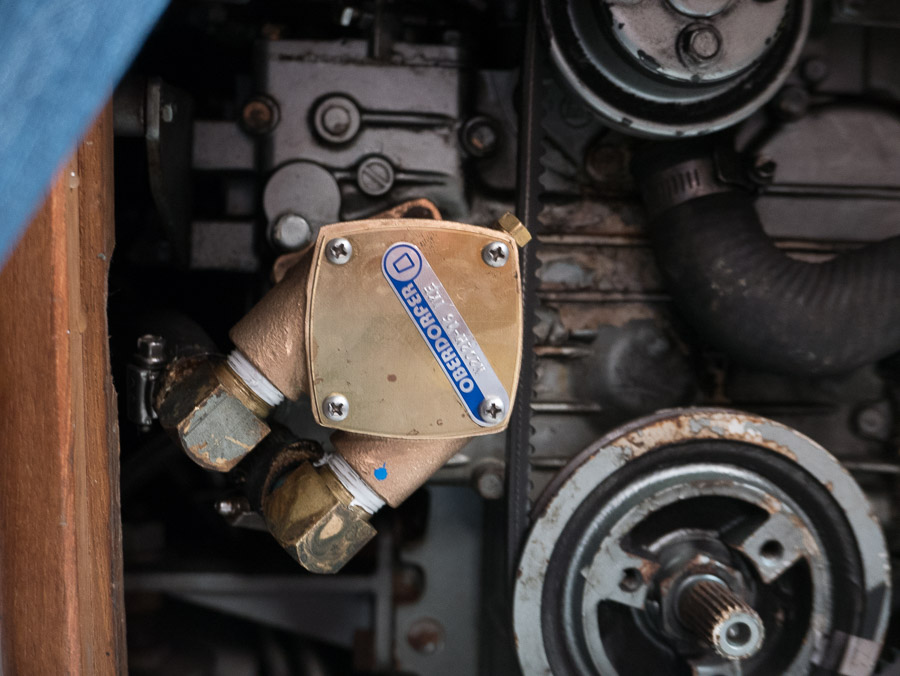 We had some really nice dock neighbors, some were also passing through (although they were staying there a few months), others local. Denise who was on a boat next to us gathered everyone for a lovely dinner. She had promised she was the queen of spaghetti and meatballs, and she did not dissapoint! Once the crazy winds subsided, we were able to take a walk across the bridge into downtown Beaufort. We spend some time at the local coffee shop, which coincidentally served the La Colombe coffee – Philly represent!
Another night we had gone out to dinner in town and after a great dinner we popped into the lounge/wine bar, Wined it Up, where we met the owners Tara, Brian and their cute dog Misha. Tara is the chef and Brian runs the bar and the front of the house, and they also live on a boat in the downtown marina. So of course we had lots to talk about. The wine selection was awesome, and we did tasting flights. Then Brian told us about their new dish, which is quickly becoming a staple at the restaurant – the 72hr sous-vide short rib. We had to try it at some point, so on a different night we came back to the restaurant, this time our bellies empty for dinner. We got a few appetizers and an order of the short rib to split. The dish was amazing! Melt in your mouth, slightly rare and so tender. Before we could even finish it we quickly ordered a second short rib!
Brian mentioned that on Sunday for brunch everyone hangs out at Hemingways, so we did as locals do and were drinking bloody marys all afternoon.
Within walking distance from the Marina there was a wonderful bakery, a really well stocked hardware store, a liquor store with a wine cellar. We of course visited them all. When in the hardware store we spotted their selection of melamine dishes. We've had dishes on board with us but they were a little too large for our drawers and we've been on the lookout for something to replace them. These were perfect! It was a new line of dishes with the exact look we were searching for – teal with crackled glaze and rustic boarder. We took all of about 2 minutes to decide to get them! We are so happy with the new set – it matches our colors and limited decor perfectly! On the way back we stopped in at the bakery just as they were closing. I was hoping to grab an afternoon snack and get some of their homemade sausages. We got their breakfast and smoked chicken flavors. The bakery was going to be closed on Sunday and Monday and I happen to mention to owner how sad I was that we won't get a chance to stop in again before we leave. She promptly handed me a giant bag of their fresh croissants to help smooth it over. The next morning we made breakfast sandwiches with the fresh homemade sausage from the bakery, fresh farm eggs on the delicious croissants – yum!!!
As much as we loved Beaufort, it was time to move on. Even though we kept traveling south, the temperature still kept getting colder so we wanted to beeline it for the Georgia border. Early Tuesday morning we were off the docks and heading for the first scheduled bridge opening, this time to pass under the bridge we walked many times across to downtown Beaufort.