On January 29th, after many goodbyes and thank yous to everyone at the Charleston City Boatyard for taking care of us for two months, we set out for our next destination, our first since the big debacle. While we were in the Charleston area for two months, we were pretty far from the city center and really didn't get to see much of the actual downtown. We did take one day and stayed in downtown for New Year's Eve/Ed's birthday and we knew there was much more to explore. We decided that we wanted to spend a few days in the downtown Charleston area and really explore all the sites.  Plus it would be a pretty easy short hop up the Wando River to help us start getting our sailing legs back.
After two and a half hours or so we arrived at the Charleston Maritime Center where we planed to stay over the weekend. We chose this marina vs the one on the west side of the downtown for a more convenient location and proximity to the various historic sites we wanted to visit and of course many restaurants we were looking forward to experiencing.
Charleston was a perfect blend of history and food. On a recommendation from a fellow cruiser at the marina we signed up for the Free Tours by Foot Charleston. While we were slightly hung over from checking out a great craft cocktail bar the night before, which was very reminiscent of the many wonderful prohibition style bars in Philly, we rallied and were so glad we did. Scott, our tour guide was awesome! Not only was he very knowledgeable but also had great sense of humor and delivery. We love doing these types of tours to get the lay of the land so that we could check things out on our own later. Also it gives us an opportunity to steak out the restaurants we would want to visit.
Ed spotted a restaurant with a very enticing menu on Yelp, Cru Café, and declared we had to go there! The Philly foodie in us really kicked into high gear. While we waited for an hour, since we didn't make a reservation ahead of time which is highly recommended, we checked out a rooftop bar at a nearby hotel. As a side note, there are many rooftop bard/longes in Chatleston. At Cru we were the last seating of the evening, but it was well worth the wait. The restaurant is located in a small house, very homey and cozy, reminiscent of the BYOB restaurants in Philly that we loved to frequent with our friends. As Ed had planned, we ordered the fried green tomatoes with goat cheese, pork belly and tomato caramel sause for an appetizer and the pecan-smoked duck breast for the entrée. They were both out of this world! We were the last patrons of the night and were seated at the chef's counter so we got to chat with all the chefs and kitchen staff as they were wrapping up for the day. What a great group of folks! If you are in the Charleston area, a visit to Cru Café is a must.
After the weekend of indulgences, we had planned to leave on Monday and do an offshore run to Fernandina Beach, FL. The weather window was perfect if not even a bit too calm. We would have had to motor-sail the 100 mile or so run which would have taken us just over 24 hrs. However just a few hours before our departure Ed learned there were a few critical work projects that needed his help in the next few days so we quickly scrapped our offshore plans and extended our stay in Charleston to a full week.
We were both eager to get going and both wanted to take advantage of that offshore weather window, but we always have to balance our wants with the Ed's need to work. So the alternative, more time in Charleston – we were all too happy to oblige with.
Ever since we crossed the North Carolina border we've been on a hunt for a great BBQ (I think at this point we can write a BBQ guide along the ICW). Of course the best BBQ is really more inland, so it's as good as you can get along the coast. Interestingly, the trend we noticed is that many places along the coast do a great smoked chicken and wings. We continued our quest and checked out several smokehouses in the downtown Charleston area. One of our favorites was Nick & Jims. We even stocked with their hot BBQ sauce! The bonus is the bottles are plastic – perfect for having on a boat. We also popped into the Cumberland Smokehouse and it had an awesome bartender who was also into sailing and was planning to eventually take off cruising. In general most patrons at the bar had some connection to sailing so it was just fun to chat with everyone.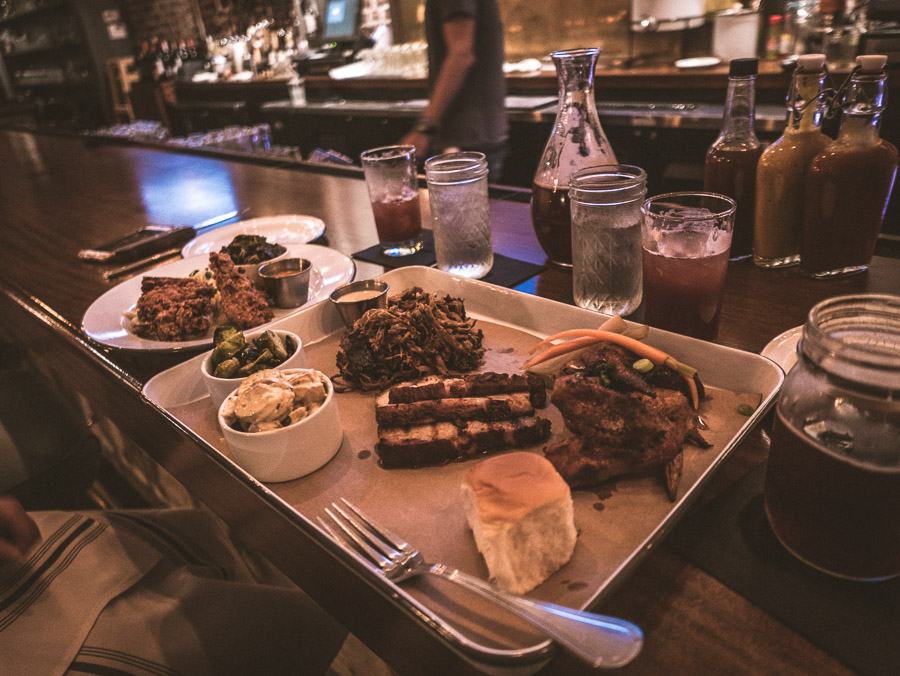 We seriously considered extending our stay another week, but decided that we should really conquer our fears and continue our journey. Many shoals were ahead of us along the way especially through the windy ICW through Georgia. Although we were still shaken up, we had to get through them, those shoals aren't moving anytime soon… So on a Friday morning we set off out of the marina – though we really should know better than starting journeys on Friday. The current at the entrance was really ripping. We had a pretty hard time getting out and we knew that there was no going back. Once we got out into the river, it was time to put our dinghy back in the towing position. It had been attached on our hip in the marina with its bow and stern lines. As Ed detached one of the lines, the very strong current started pushing the dinghy against our hull and next thing we knew, it was turned over… We both went into problem solving mode. There were a few things we wanted to avoid, particularly all the dinghy lines that were now floating in the water from wrapping around our engine prop. Ed had me turn into the current, that way the lines were flowing past our boat. With our walk-through transom he lowered the ladder and was able to reach the dinghy from the top step and flip it back over, pull in the lines and the gas can. And that's when we realized our oars were now at the bottom of the river… And this is why you dont start journey on a Friday! The whole ordeal probably took about 10 minutes. We were of course shaken up. I still shudder every time I think of Ed on that top step of the ladder, but there was no going back, so on we went down the Cooper River, through the Ashley River and back into "the ditch" towards Beaufort, SC.